Welcome to the Pagan Michigan Directory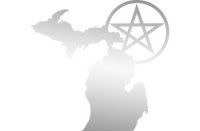 Connecting with Michigan's Pagan Community
Thank you for visiting the online directory of resources for Pagans in Michigan. This directory is a free service to the Pagan community of Michigan. The Pagan Michigan directory provides you with links to shopping, spiritual and wellness services and clergy and the opportunity to meet other Pagans near you. I strive to keep this directory up to date and accurate as possible in order to serve the Pagan community by helping it connect.
Pagan Michigan does not host any events. It does not accept donations and is privately funded by a single person. Basically, it's a hobby. Google and Amazon ads help pay for it. If you would like to help out, I do accept volunteer assistance, or you can just click on an ad.
I strive to give every event, organization, business and individual who uses this site equal treatment. As such, Pagan Michigan does not accept payments for featured advertisement. You are welcome to advertise using our free features. See How To Advertise On the Pagan Michigan Website. Pagan Michigan is also not able to act as a corporate sponsor for anything. It will help you find more appropriate sponsors through the use of its directory, classifieds, forums and other tools. Sometimes I do interviews for the news section if I have time and I'm interested. Email me at moc.liamg|nagihcimnagap#moc.liamg|nagihcimnagap if you'd like me to interview you.
Get the latest on our News page.

Pagan and Heathen clergy, professional witches and psychics, healers, magic-users, teachers, counselors and other providers of Pagan and Heathen spiritual and magical services are also encouraged to list in our directory as are representatives of Pagan, Heathen and occult groups that offer public events, training and other services to the Pagan community of Michigan as well as non-profit organizations, charities, sanctuaries and, in fact, any organization owned by or created Pagans, Heathens, witches and/or occultists in Michigan.

The Pagan Michigan directory is a free service. There is never a charge for listing in or viewing our online directory.

For more information or to report an error or inappropriate content, please email moc.liamg|nagihcimnagap#moc.liamg|nagihcimnagap
If you have any trouble with this website or if you find any errors or incomplete information, or if you would like to have something added or removed and can't or don't want to do it yourself, please contact paganmichigan at gmail.com